March 2011 Event – This month we had Andy Phillips from www.InternetMarketingWhizKidz.com who exposed some of the techniques used to generate property leads on autopilot using "Property Lead Generation Websites" and Social Media.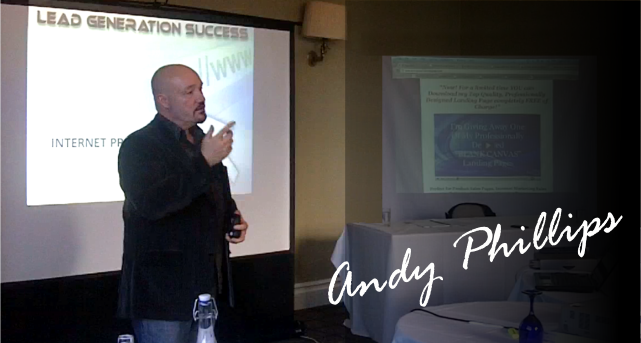 Discover how you can save a fortune by sourcing property deals on autopilot as well as how you can create a second source of passive residual income from learning some basic internet related skill sets.
The great thing is that he has used these same techniques on a multitude of other businesses. Once you understand the concepts it's just a case of adapting it to your own system.
Andy has been a property investor since 2002 and has built a UK and International Property Portfolio. His main passion has always been the Internet and has used his 23 years of experience within the IT industry to create lucrative Marketing Business.
More About Andy Phillips…
Andy Phillips spent 23 years in corporate IT and worked right across the world including The USA, Middle East and Europe. Fed up in his cooperate job he decided to start his own business which he did in Corporate Data Security Solutions. Again this was successful, however Andy realised he had just replaced one high pressure job with another, this time, one HE was responsible for !
That's when a revelation happened. Andy and his wife Simone decided that in order to become wealthy and have any sort of true economic stability in their life they needed to work smarter and look at sources of Passive Income. Property was the first project which has not only provided capital growth, (even in this climate) but also a steady passive income. Now Andy runs an Internet Marketing Business which includes consultancy and training. www.businessforlife.co.uk
"We realised we needed to change the nature of our business" Andy said. "Today we run a successful Internet Marketing Business where we can set up businesses to run as much on autopilot as possible, we also run an Internet Marketing Technology Training Business providing Personal Mentorship, Online Tuition and Workshops dedicated to teaching the core skills of building a real Internet Marketing Business. Our Training covers Core Internet Marketing Technology Skills – Domain's, Keyword Research, Hosting, Social Media, List Building, Lead Generation Strategy, Product Delivery and Much More… This really is our passion"
Andy speaks extensively around the country at Business and Wealth Events and provides training and consultancy to individuals and business both here and abroad.
Connect with Andy at:
Home | Events | Useful Links | Speakers